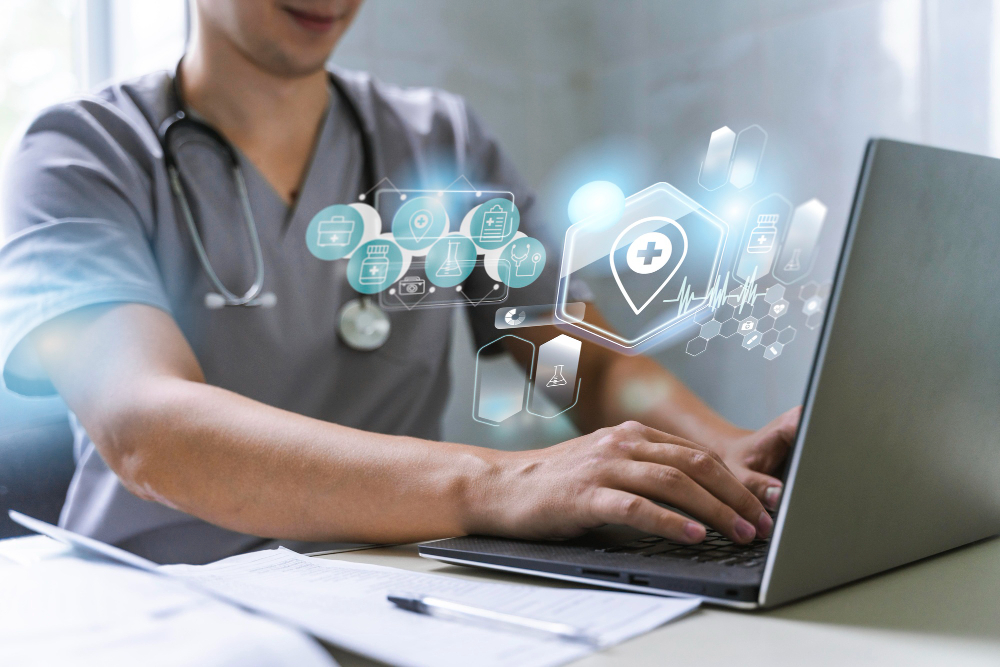 FHIR is on fire, with the application programming interfaces (APIs) emerging as essential for healthcare innovation, according to Titus Schleyer, PhD, DMD, Regenstrief Institute research scientist.
The FHIR data standard enables app developers to build on existing health IT platforms.
"These apps tend to fill niches that are not filled by the major EHR vendors," Schleyer told EHRIntelligence in an interview. "When you think of Epic and Cerner, of course they want to be everything to everybody, but they cannot provide every single innovation that healthcare needs."
Current use cases for HL7 FHIR APIs include tracking chronic wounds in patients, integrating health information exchange (HIE) data into EHRs, and making care plans for cancer patients.
"FHIR enables more participants in the innovative space," said Schleyer, who also serves as a professor of biomedical informatics at the Indiana University School of Medicine. "As a result, I think we'll see improvements in the technologies available to clinicians, patients, and caregivers because we're not just relying on a couple of big industry participants to do all the innovation."
"The exciting part about this is that in the end, we want to make healthcare better and we understand a lot about how it's not working as it should," he said. "Being able to innovate in the ways we can now really gives us a lot of opportunity."
Schleyer recently co-authored a study that aimed to provide a snapshot of the HL7 FHIR landscape. The research team searched public repositories for potentially eligible FHIR apps and surveyed app implementers and other stakeholders.
Of the 112 apps investigated, most focused on clinical care and research. Additional use cases for FHIR apps included HIE, public and population health, education, and administration.
"FHIR is being adopted very intensively as a platform," Schleyer said. "When you think about the adoption of healthcare information or informatics standards, some of them took a long time to get going and some of them never really made it. The breadth and depth of innovations is pretty good."
FHIR stands out from previous data standards for several reasons, including ease of adoption, he explained.
"FHIR is built on general purpose internet standards," Schleyer said. "If you look at the technical components of FHIR, any reasonably well-educated developer will understand those because they work with them very frequently, so the barrier to understanding FHIR conceptually and then using it is very low."
"When you compare some other standards where you have to learn a new paradigm of either communicating or representing information, FHIR didn't have this problem," he emphasized.
Another benefit of FHIR is its portability. The study found that about half of the FHIR apps surveyed were implemented across multiple sites.
Schleyer likened FHIR to an electrical plug.
"We all have a variety of devices that we want to power, and we never think about if they will work with the plug," he said. "FHIR is very analogous to that because you can take an app that was built on FHIR on one EHR or platform, and you can fairly easily export it to another platform. The plug-and-play philosophy that has become a hallmark of internet computing is also represented in FHIR."
However, he acknowledged that it's still easier to unplug a device at home than it is to take a FHIR app from one setting to another.
"Sometimes you have to take into account wrinkles in the FHIR implementation, but largely FHIR is fulfilling its promise of being quite general purpose and enabling the portability of applications," Schleyer said.
The study also revealed that most FHIR apps leverage SMART on FHIR, an open-source API that leverages the OAuth 2.0 data standard to provide secure access to EHRs.
"SMART on FHIR has been very widely adopted because it increases portability and makes the app more generic," he said. "It's a package. FHIR takes care of the standardization in the data access arena and the SMART part makes the app more adaptable because it adds a standard method of authentication used by all major computing environments."
"It's also very easy to connect to your own authentication mechanisms from an organizational perspective," Schleyer added.
While the research helped define the current scope of HL7 FHIR apps, it also underscored the need for a comprehensive FHIR app registry.
While major EHR vendors have app directories, there isn't a single place where all HL7 FHIR apps are listed.
"When you go to the Apple App Store or the Google Play Store, you are fairly confident that the world's apps are at your fingertips," Schleyer explained. "We don't have that for FHIR apps."
Of 112 apps surveyed, 49 were not listed in an EHR app gallery.
"If I'm a healthcare executive on the lookout for apps that would help clinicians, I have to look in so many different places to find out if the app I'm imagining exists," Schleyer said.
The study suggested that the cost of listing an application in these galleries could be a potential barrier to app developers adding their tool to an EHR app store.
"Some vendors try to put their app in as many app stores as possible because it helps with adoption, but it is work to go from one app store to another one," he continued. "You have to plant yourself in multiple places to be seen, which is a problem for the consumer. It's also a problem for researchers or standards developers because it's hard to get a sense of that whole landscape."
A global FHIR app registry would alleviate these challenges for app developers, consumers, and researchers. However, getting vendors to list their app in yet another directory is "a big nut to crack," Schleyer said.
"We're kind of grappling with that," he noted. "What we're thinking between the American Medical Informatics Association and HL7 is that some directory and community focused on app developers, students, startups, faculty, and small healthcare systems might energize the developer community."
"It would also help HL7 understand the new things that people are working on and how the standard needs to be extended," Schleyer added.
Recent developments signal that the health IT market sees a comprehensive app registry as something that would be useful, he said.
"People are thinking about making things more inclusive, so there's more of an awareness of what's out there," Schleyer said.
For instance, he noted that Epic recently launched Connection Hub, a website for health IT vendors to list their apps and self-report interoperability with Epic software. The website is open to all vendors, not just Epic App Market participants.
Source: EhrIntelligence