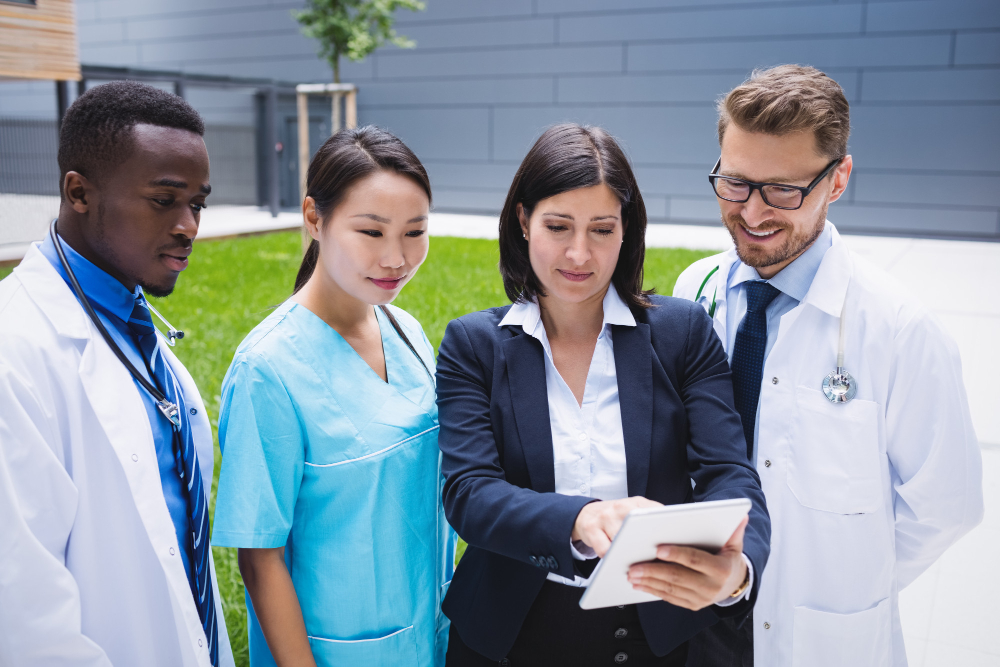 Healthcare interoperability is one of those terms that can mean many things to many people. But for doctors and pharmacists, it means only one thing: the ability for information to flow efficiently across systems, delivering the right patient information when they need it most.
Innovative technologies in the last two decades changed healthcare for the best. But the COVID-19 pandemic uncovered major gaps in patient care. It also revealed that pharmacists and prescribers across the industry were facing concerning levels of burnout due to time-consuming administrative tasks, driving health system costs sky-high, further limiting patient access to care.
Community pharmacists stepped in to fill the COVID-era gaps in care, providing accessible healthcare for many patients. Tapping into existing technology and expanding interoperability supported increasing clinical care at the pharmacy and can propel the continued evolution of patient care teams.
Care Teams Are Evolving and Can Address Burnout
The COVID-19 pandemic brought burnout among clinicians into clearer view, resulting in alarming workforce shortages among healthcare professionals, impacting the ability of health systems to provide care.
Clinicians point to administrative burdens that take their focus away from caring for patients as a major factor contributing to burnout, with 1 in 5 physicians expected to leave their practice in 2023. As physicians leave their practices and health systems in rural communities face increasing uncertainty, pharmacists are equipped with the training and desire to work at the top of their license to fill gaps in patient care.
There is good news: existing technology can address the causes of provider burnout and simultaneously better equip pharmacists to support patient care teams, providing accessible, comprehensive care to patients no matter where they live.
Pharmacists Are Trusted, Accessible Care Providers
The COVID-19 pandemic reinforced the need for more accessible care, and pharmacists stepped up in a big way. With expanded authority to administer vaccinations as well as provide limited testing and prescribing, pharmacists were accessible to patients, even in rural communities. One survey showed that 77% of patients agreed that pharmacists are integral members of the care team.
Access to care, especially in rural areas, continues to be threatened by economic uncertainty, with more than 30% of all rural hospitals at immediate risk of shutting down. As 9 in 10 Americans live within 5 miles of a pharmacy and an analysis of high-risk patients found that they visited their community pharmacy an average of 35 times per year, compared to 4 visits to their primary care provider, pharmacists are key to preserving access to healthcare for patients across the country.
With more than half licensed as a Doctor of Pharmacy in the US, today's pharmacists are viewed as accessible and trusted care collaborators who can do more than fill prescriptions alone. Pharmacists are an essential component of patient care teams and should remain as such beyond the pandemic.
Technology is Improving the Delivery of Patient Care
For community pharmacists 30 years ago, the telephone was the pinnacle of technology in the treatment of their patients. Hand-written paper prescriptions were delivered by patients to the pharmacist. Time was spent making phone calls or sending faxes verifying information just to fill a single prescription. This process was repeated dozens of times or more each day.
Interoperability originated from the first electronic prescribing technology introduced in the early 2000s — helping prescribers and pharmacists step away from the phone and prescription pad and enhance safety for patients. Now, more than 2.34 billion electronic prescriptions are delivered each year.
Since e-prescribing became widely adopted, technology has continued to evolve.
Putting patient intelligence at prescribers' and pharmacists' fingertips is helping them make more informed care decisions alongside their patients. And today, with more than a quarter of US adults facing multiple common chronic conditions, like diabetes and hypertension, access to patient information within a clinician's workflow is key to delivering better, safer, less costly care.
Technology and Interoperability: The Glue That Strengthens Care Teams
Now, as patients continue turning to their pharmacists for more of their health care needs, technology and interoperability are enabling them to help manage patient care for diseases such as diabetes and hypertension and even patients with multiple comorbidities, retaining their role as part of care teams beyond the pandemic.
No matter where the patient is on their care journey, healthcare providers should have access to a comprehensive view of the patient's care history when they need it most. Advancing technology and improving interoperability will continue alleviating burdens on clinicians, empowering patient care teams to deliver better-informed and more cost-effective care.
Surescripts, the nation's leading health information network, is simplifying health intelligence sharing and supporting clinicians to deliver better, safer and less costly care. More than 2 million providers exchanged patient data more than 21 billion times through the Surescripts network in 2022, reaching virtually every American patient, driving greater interoperability and better-informed patient care.
Source: EhrIntelligence